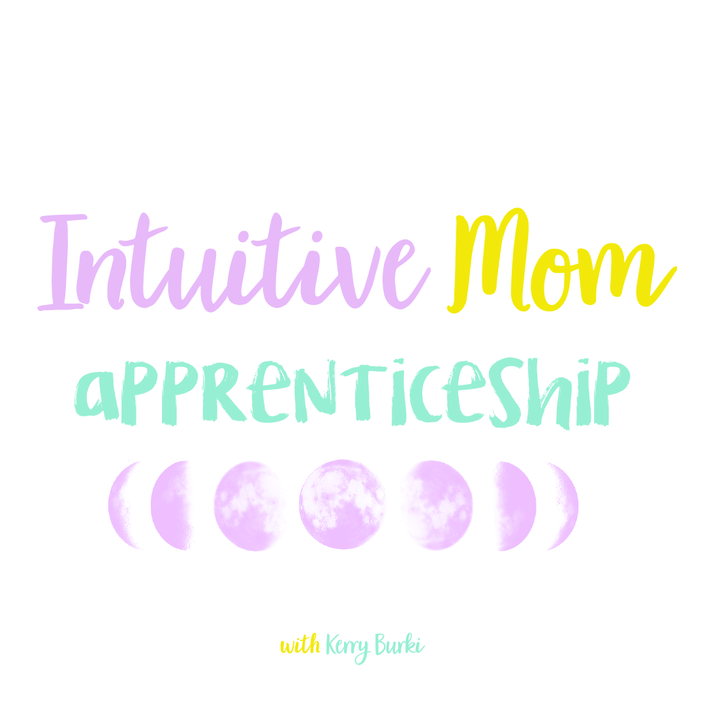 Intuitive Mom Apprenticeship
90 day journey to becoming a grounded presence in your family as an Intuitive Mom and in your community as a Certified Intuitive Guide and Coach.
CLICK BELOW TO APPLY!
PAUSE AND TUNE IN:
Are you tired of looking outside of yourself for answers?
Do you want to trust yourself more?
Are you ready to experience less self-judgment and more self-compassion?
Do you want to know how to tap into a sense of calm and tune out the chaos?
Are you ready to feel connected to and supported by the universal energies around and within you?
Do you desire to cultivate your gifts and become a grounded and intuitive presence in your family and community?

Are you excited by the idea of making money from your interests in the spiritual and intuitive arts?
Does your soul crave the loving support of a like-minded mentor and mom who creates a safe space to share your dreams and your worries so you can move forward in an empowering way?
You are a positive force in this world. Even though you can't always see it and don't always believe it.
It's easy to get distracted by everything around you. Sometimes those things fill you with fear and anxiety. Sometimes they make you feel like you are not where you should be and that you are never going to figure it out.
There's a place within you that is calm, loving, safe, and nurturing, that feels whole and at ease.
This is the true you.
The intention of this program is to help you spend more time living from this place.
CAN YOU RELATE?
Do you ever feel like you are in a constant cycle of starting and stopping with your self-care and spiritual practice that it can feel like you are always taking 1 step forward and 2 steps back?
And all the while knowing that your heart is ready for a new way of living but your mind and life don't always allow it.
Your vision of being a vibrant and intuitive woman and mom here to uplift the vibration of the world is going unfulfilled.
The world needs your unique energy that only you can offer.
You have so much love to give and when you take care of yourself, the places and the people to direct that love to will show up.
You are the magnet.
The Intuitive Mom Apprenticeship invites you to clear out the junk and noise blocking all the good coming to you.
You can do this.
You are strong.
You have more support than you'll ever know.
You are allowed to shine.
I'm here to be your guide.
HI, I'M KERRY!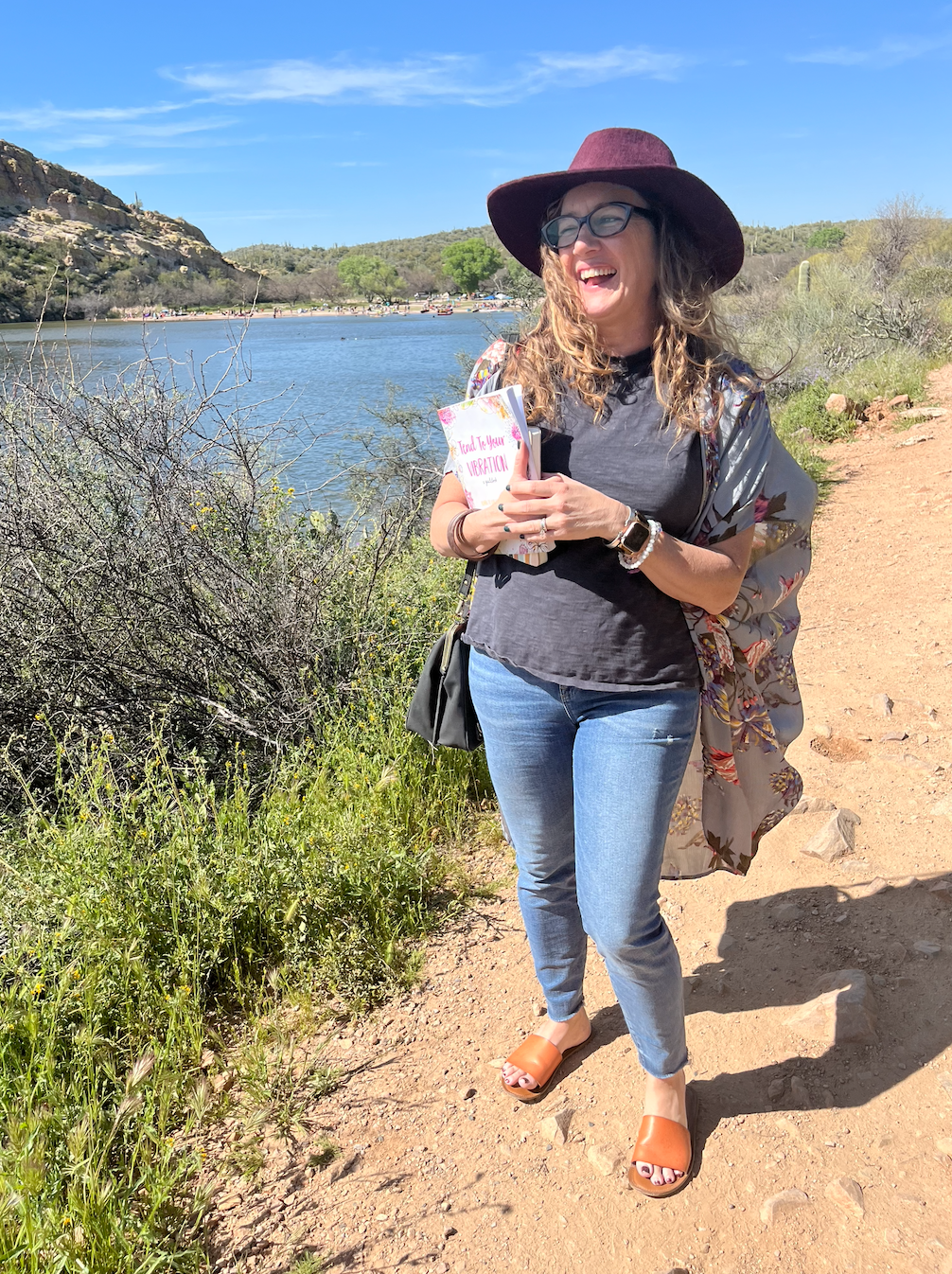 Hey! I'm Kerry and I founded the Intuitive Mom Apprenticeship.
In a nutshell, I'm a yoga and meditation teacher, intuitive guide, and life coach who took decades to become the grounded and intuitive presence I am today.
My turning point happened when moms started confiding in me how much stress they are carrying around with them each day. So I started hosting local Mom's Self-Care Circles that include yoga, breathwork, meditation, and intuition training using oracle cards. (See their testimonials below).
Some of those moms shared how they have been drawn to this type of work but weren't sure where to start and sometimes felt alone in exploring it. A few of them asked me about mentorship opportunities.
So I began to research creating a mentorship program. I started thinking back to my previous trainings, realizing the ones that were the most transformational were the ones that offered continued support but so often that support didn't fit my schedule as a mom because my mentors are not moms.
It hit me, I need to create a program that helps moms fast-track their desire to be a more intuitive and grounded presence in their families and communities that also includes continued support at times when their kids might be in school or daycare (instead of evenings and weekends when we are often busy making dinner and taking kids to sports and dance lessons (or archery or D&D or improv, etc!).
THIS PROGRAM IS PERFECT FOR:
Moms that are:
recovering people-pleasers, perfectionists, complainers, and worrywarts that secretly or not-so-secretly hope that life can be fun and magical

dabbling in or practicing the spiritual and intuitive arts and desiring to go to the next level

open to exploring the mysteries of the universe

ready to start carving out some time for themselves

willing to take an honest look at themselves and start to make positive changes

interested in deepening their gifts with an experienced mentor
THIS PROGRAM IS NOT RIGHT FOR:
Moms who currently don't have any wiggle room in their schedule or have too many commitments at the moment. Our time to work together might be in the future!
CLICK HERE TO SCHEDULE A DISCOVERY CALL
WHY I'M DIFFERENT
I'll give you fun, simple, proven techniques to calm your anxiety, release the past, love yourself, and connect to divine support every single day.
I started my spiritual path over 30 years ago, have been practicing yoga since 1997, teaching yoga since 2004, offering intuitive guidance through classes, workshops, and private coaching since 2015, and teaching about the law of attraction at the Southwest Institute of Healing Arts since 2021.
I've struggled with low-self esteem, anxiety, and addictive habits and used everything in this program to help me thrive along with the support of family, friends, guides, and coaches.
I'll guide you to create a consistent, personal, spiritual, self-care practice.

I offer the opportunity and support for you to become a Certified Intuitive Guide and Coach.
I'll create on-going support both personally and professionally on your journey.

I care deeply for your inner fulfillment, purpose, mission, and holistic transformation.
A LOVE NOTE FROM ME TO YOU
I know that there is a tug on your heart for something more.

A different way of living that feels more magical and vibrant.
A different version of yourself that feels more authentic, playful, and impactful.
From my experience, it starts by tending to your vibration. The word "tend" means to care for, look after, or give one's attention to.

This takes practice.
At the beginning of this program, you step into the role of apprentice and you will begin to tend to your emotions, environment, and vibration like you would a garden or your home.
The techniques in this program along with my support as your mentor will help you learn how to handle the ups and downs of life with more grace and ease.
You will have a bountiful spiritual toolbox as an Intuitive Mom.
At the end of this program, you will be ready to step into the role of a Certified Intuitive Guide and Coach. You will explore which techniques and lessons you are naturally drawn to and create your first offer to share in your community.
You will be able to support others dealing with the stresses of life in loving and empowering ways.
I am ready to link arms with you and move forward in the direction your heart is calling you.
xo.
CLICK HERE TO SCHEDULE A DISCOVERY CALL
MILESTONE #1: PREPARING FOR THE WORK

Milestone #1 (Week 1) is all about setting yourself up for success in this program and learning how to put yourself first. You are the focus for the apprenticeship portion. Here's what you can expect:
You'll learn how to limit screen time and create a healthier relationship with technology.
You'll prioritize your commitments and create time for self-care and the program.
You'll improve your physical and emotional well-being by exploring the foods and habits that affect your energy and build confidence and resilience.
You'll let go of worry and negativity and tap into your unique power and gifts to make a positive impact in your life and the world around you.
By the end of Milestone #1, you'll have a clearer understanding of how to hold space for yourself and be on your way to living from a higher vibration.
MILESTONE #2: WORKING WITH NATURE
Milestone #2 (Week 2) is all about using the physical world to help you relax and release stress. Here's what to you'll accomplish:
You'll learn how to shift your energy and protect yourself from negative influences using tools like crystals and essential oils.
You'll explore exercises like flower clearing and candle gazing to clear your mind and improve your focus.
You'll learn how to declutter your physical and mental space to create a calming environment.
You'll practice different relaxation techniques like body scanning and posture improvement to reduce stress and anxiety.
By the end of Milestone #2, you'll have a range of practical tools and techniques to help you cope with life and find happiness in everyday moments.
MILESTONE #3: WORKING WITH YOUR BREATH
Milestone 3 (Week 3) is all about discovering breathing exercises that can bring health benefits to your body and mind while shifting your energy in positive ways. Here are the specific things you'll learn:
You'll learn how to use your breath to balance your energy and bring vitality and calmness to your body.
You'll discover how to use your breath to release emotional blocks and tension in your body.
You'll learn how to use your breath to boost your confidence and create a sense of accomplishment.
You'll discover how to use your breath to energize your body and mind while reducing stress and anxiety.
By the end of Milestone 3, you'll have a variety of breathing exercises at your fingertips that you can use to improve your well-being and manage your energy levels.
MILESTONE #4: WORKING WITH YOUR THOUGHTS
Milestone #4 (Weeks 4 and 5) is all about life coaching exercises to help you remove blocks and switch to a more positive mindset by discovering what makes you happy, learning to love yourself as you are right now, and believing that you are worthy of your dreams. Here's what you'll experience:
You'll learn to tune out the world around you and tune into your inner wisdom.
You'll practice ways to switch your negative thought patterns into positive ones.
You'll explore what your soul desires and the steps to make it your reality.
You'll begin to move past any guilt, shame, or feelings of being stuck in the past.
By the end of Milestone #4, you'll have gained the tools and insights to overcome any mental blocks, cultivate a positive mindset, and believe in your dreams.
MILESTONE #5: WORKING WITH YOUR IMAGINATION & ENERGY
Milestone #5 (Weeks 6 and 7) is all about going from coping to thriving using techniques to help you worry less, trust yourself more, and feel more connected to yourself and the universe. Here are the top 4 outcomes from Milestone #5:
You'll learn grounding techniques to bring you back to the present moment and reduce anxiety.
You'll tap into your intuition and start trusting yourself to make decisions with confidence.
You'll discover animal guides and their symbolism to gain wisdom and insight into your life.
You'll learn about the energy of each moon phase and how to use them to create your dream life.
By the end of Milestone #5, you'll be equipped with powerful tools and techniques to help you thrive and feel more connected to the universe.
MILESTONE #6: EMBODYING THE INTUITIVE MOM
Milestone #6 (Week 8) is all about incorporating what you have learned into your daily life and learning to trust your intuition by learning how to use oracle cards.
You'll learn how to receive intuitive hints, ah-ha moments, and downloads throughout your day.
You'll learn how to mix and match different elements to create energizing, calming, and soothing rituals that support your daily routine.
You'll discover how to use oracle cards and how to create rituals based on your intuitive messages.
Bonus Training: You'll explore moon charting and how to use that information to guide your energy and emotions.
By the end of Milestone #6, you'll have a deeper connection to yourself and your intuition, and you'll be equipped with the tools to move through life with more confidence and ease.
MILESTONE #7: BECOMING A CERTIFIED INTUITIVE GUIDE AND COACH
Milestone #7 (Weeks 9-12) is all about applying everything you've learned so you can support others to get unstuck and in touch with their own inner wisdom. Here's what you'll learn:

You'll practice how to hold space for others in an empowering and transforming way.
You'll prioritize viewing yourself and others through a lens of love and compassion as extensions of the divine.
You'll discover how to create Intuitive Guidance sessions and workshops using the techniques from this course and my book, Tend To Your Vibration.
You'll learn how to share your gifts both in-person and online.
You'll also be equipped with the basics of starting your business along with figuring out who and how you want to serve in your community.
By the end of Milestone #7, you'll be certified to host workshops and classes based on the material in the Intuitive Moms Apprenticeship and provide professional intuitive guidance sessions both in-person and online. Graduates will receive a certificate of completion and be eligible for a free listing on Kerry's site.
CONTINUED SUPPORT IN THE INTUITIVE MOMS CIRCLE (INCLUDED IN THE PROGRAM!)
Live support and rituals: After Week 12, you will have access to monthly live support and rituals to learn new ways of combining and applying the techniques you learned throughout the seasons for however long the program continues to run or at least one full year from your start date.
Lifetime Access: You will have access to the program materials and recorded monthly support calls for the lifetime of the program. This includes all new trainings that get added in the future.
Built-in support system: As more moms come through the apprenticeship, your support circle will continue to grow. You will have a built-in network of supportive women who understand your journey and can offer you comfort and guidance when you need it.
Business support: If you are looking for help with creating workshops, pricing sessions, or anything business related, you can submit questions ahead of time to be discussed on the monthly calls.
Discounts on events and coaching: As a member, you will receive discounts on in-person and online events along with coaching sessions with Kerry for however long the program continues to run or at least one full year from your start date.
SCROLL DOWN FOR A DETAILED CURRICULUM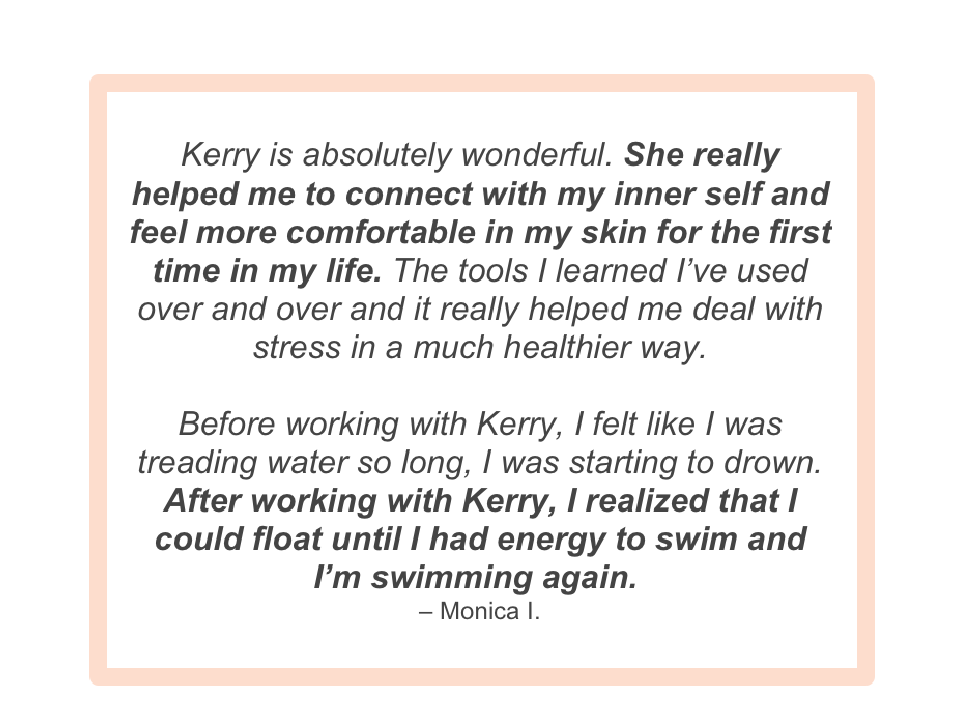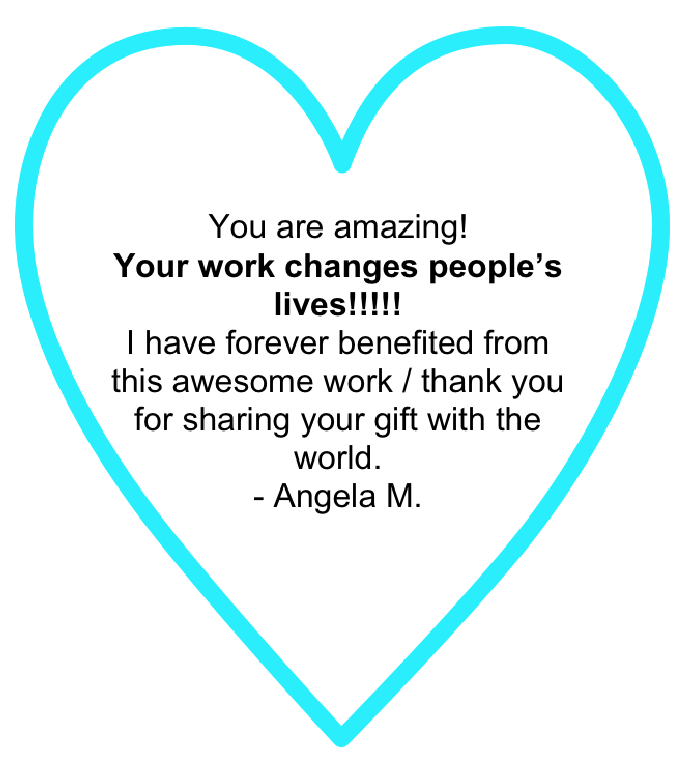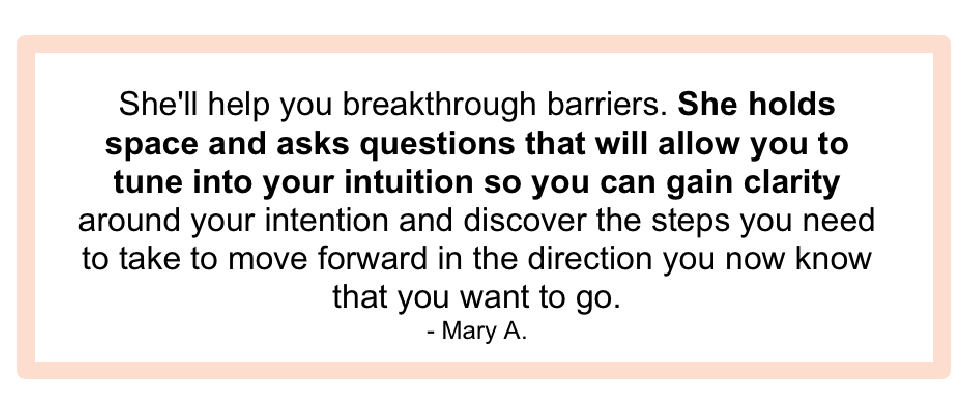 INTUITIVE MOM APPRENTICESHIP
Intuitive Mom Apprenticeship is a 90-day, high-touch mentorship program and training that gives you 1-on-1 support to help you become an Intuitive Mom and Guide in a way that jives with your busy schedule.
You will receive:
90-day container for intuition and self-care acceleration
8 weeks of training videos + bonus content (Value: $1000)
4 weeks of certification lessons (Value: $5000)
1x weekly Q+A coaching call (Value: $1800)
Intuitive Mom Gift Box (Value: $300 - see below for more details!)
Permission to have fun during the training and beyond (Value: Priceless!)
UNLIMITED messenger support inside chat portal (Value: $900)
LIFETIME access to all program and material upgrades* (Value: $1000's!)
In the future: Access to a supportive mom community (Value: Priceless!)
Time Commitment: This program will require about 3 to 4 hours each week. This includes training videos, homework, implementing what you have learned, and our 1-hour weekly coaching call.
Total Value: $10,000+
HOW TO APPLY
Want to work together? Click below to schedule a 30-minute Discovery Call. Once you pick a time, you will be prompted to fill out the application to join IMA. In the application, I'll get to know you, ask some questions about your life, and learn about your goals to see if it's the right fit.
At the end of our call, 1 of 2 things will happen: You'll either be a perfect fit and I will extend an invitation to invest in yourself as one of my clients and enroll in this program...
Or, if it's not a good fit, that's totally okay too. There won't be any hard feelings and NO obligations on your part — I will suggest something else you can do to help you move forward, and point you in the right direction.
Let's do this!
Begins May 1st, 2023!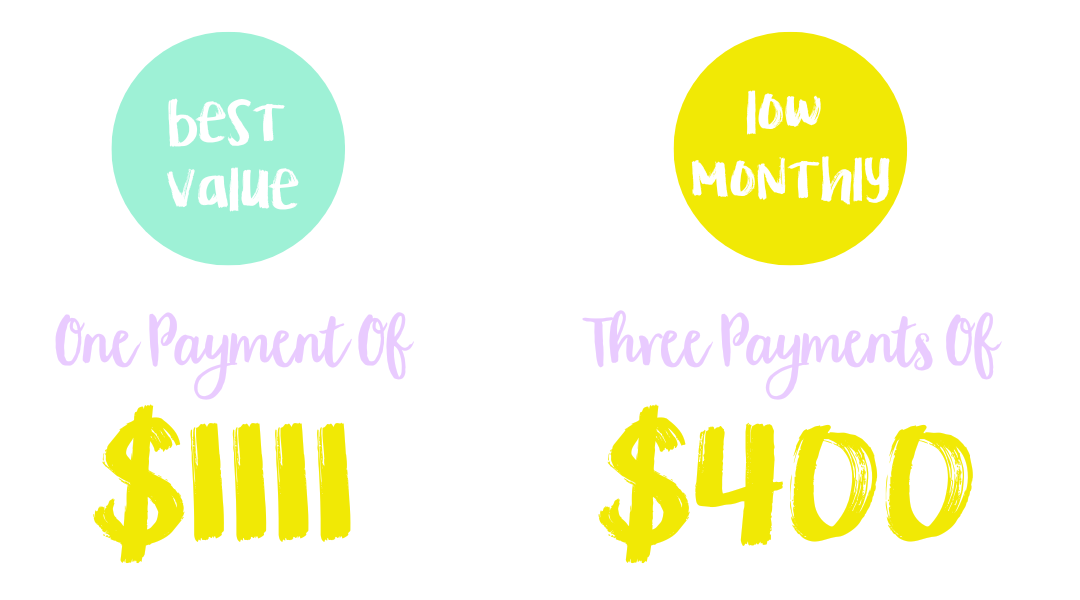 Frequently Asked Questions
What if I don't want/need the certification part?
The certification part of this course is life-changing. This is where it all comes together. It offers you a completely new way of looking at and interacting with the world. The training in this portion will help you show up for the people in your life in ways you haven't been capable of before. You will become a trusted resource. These skills can be infused into your family, friendships, work, activism, and more. If you do not plan on using your skills learned in the training professionally you can skip the Biz Basics section.
Do I have to be a mom of school-aged children to do the program?
No! I mention that because that makes up a large part of the women I currently work with. You can have babies or grandbabies. Children of any age. If you are called to this work, then I am here to support you!
What if I want a refund?
If you are unhappy with the program during the first 7 days, you can receive your money back minus the cost and shipping of the Intuitive Mom Gift Box. Simply send an email to
[email protected]
with the subject "Refund." The refund process will be confirmed over email.
Are positive results guaranteed?
Like most things in life, you will get out of this program what you put into it. All of these lessons have positively changed my life. I am hoping they will also positively change yours. You will learn how to empower yourself and shift your energy to a higher vibration. If you commit to doing the lessons and coming to the live calls or watching the recordings, you will feel a massive positive shift in the flow and experience of your life. You will also feel more confident and that your life will be more magical.
Can you tell me more about the coaching calls during the program?
Once you sign up, you and I will coordinate our calendars so we can meet each week for coaching. Depending on your work schedule, this will be on the same day and time or it will be flexible. All calls will happen between 9am and 2pm Monday-Thursday (not including holidays) and 9am and 12pm on Fridays.
Will I need any supplies for this course?
You will need to buy a special journal or notebook to record your journey. This will serve as a space for your transformation and a resource in the future. As a special bonus, you will receive a special gift box containing the rest of the items that are from my book, Tend To Your Vibration, including the book. Scroll down to see all the goodies! Optional Purchase: Fresh or dried flower or bouquet of flowers for the Flower Clearing Exercise in Milestone #2. Feel free to email
[email protected]
with any questions!
What if I don't have time to do all of the lessons?
There is a lot of information in this program and I want to let you know that you will not be incorporating all of it into your daily life. Instead, think of it as creating a toolbox you can use to help you get unstuck, pumped up, relaxed, goal-oriented, and so on. I encourage you to try your best to do all the lessons during the first 90 days and then going forward you will pick and choose based on your needs.On that note, I also don't want you to feel like you fall behind. If you are tight on time but still desire to do the program, I believe you will be led to focus on the lessons that will have the most impact on your life right now so you can go back to the others in the future.
*How long will I have access to the program?
All of the program materials, worksheets, and videos are downloadable so you will have a lifetime to enjoy them. You will have access to the course platform where you work through the lessons and additional monthly support calls for however long the program continues to run or one full year. Please reach out to
[email protected]
with any questions.
I am new this type of work, will it work for me?
If you have an open mind and an open heart then the answer is yes. Such an exciting time for you!
I have been doing this type of work for a while now, will there be anything new to learn?
I believe anytime we slow down to intentionally tune in and focus on ourselves will create a powerful and positive shift. Plus, stepping into the role of the apprentice will lift you up to a level of dedication that you may have not experienced before. You will be able to mix what you already know and what you will learn in this program to create a magical life. I will be there as your mentor to answer any questions you have or offer the guidance you seek around any of it. Also, I have never offered anything like this before so it will be a brand-new experience!
INTRODUCING THE INTUITIVE MOM APPRENTICESHIP GIFT BOX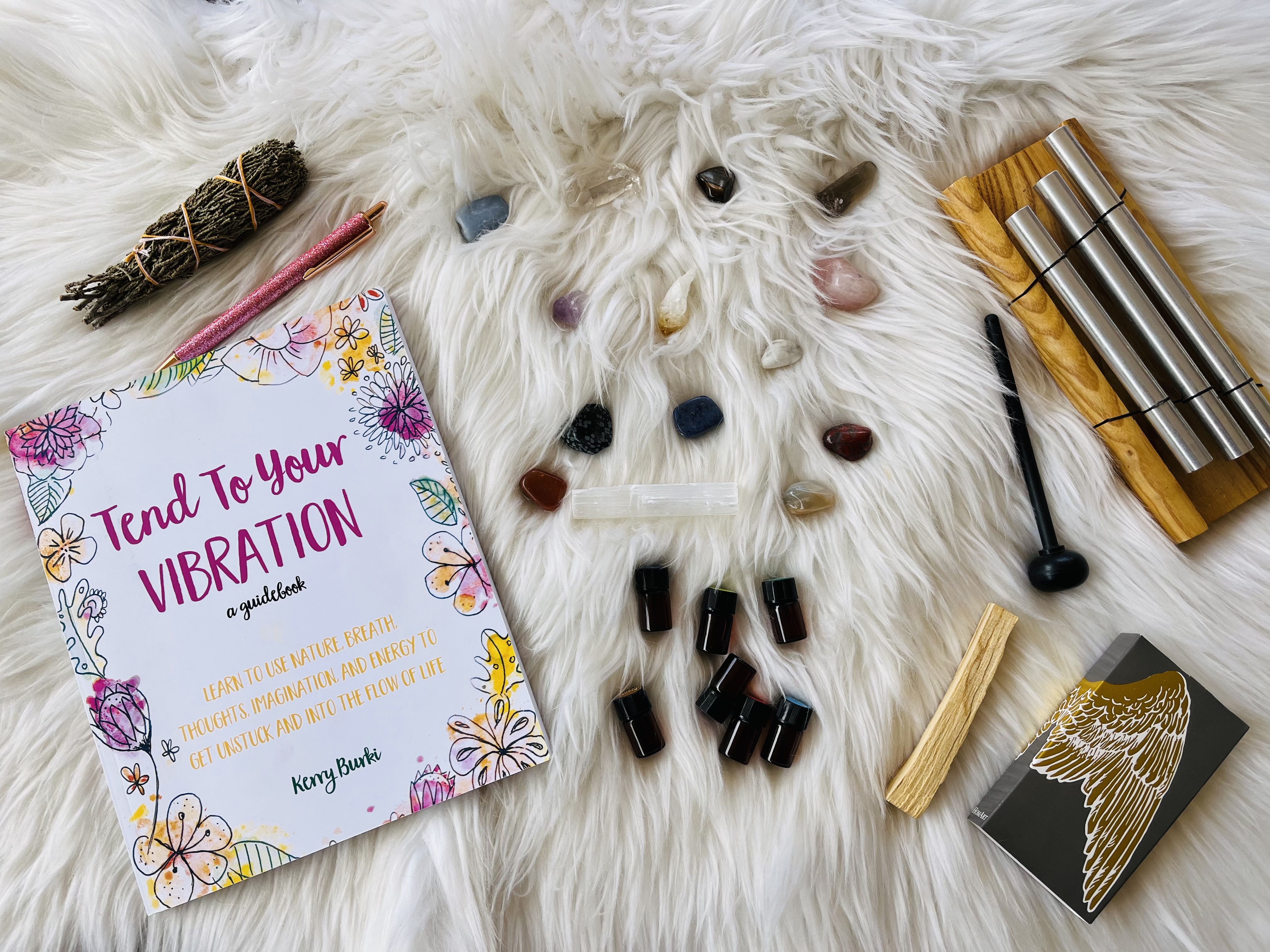 Once you enroll in the Intuitive Mom Apprenticeship, I will mail you this one-of-a-kind box with all of the goodies you will need for your journey.
It will include:
a pen
one small crystal of each of the following (Green Aventurine, Sodalite, Howlite, Red Jasper, Snowflake Obsidian, Rainbow Fluorite, Carnelian, Citrine, Moonstone, Smoky Quartz, Angelite, Clear Quartz, Amethyst, Tiger's Eye, Selenite, Rose Quartz, Turquoise, and Black Tourmaline)
one herb bundle, one stick of palo santo, and matches
sample size bottles of each of the following essential oils Lavender, Lemon, Frankincense, Peppermint, Patchouli, Roman Chamomile, Orange, Lemongrass, Grapefruit, Bergamot, Tea Tree, and Cedarwood
one mini ritual candle and holder (not shown)
one chime
one copy of Tend To Your Vibration
***items will be different and vary from the ones above.
I do encourage you to buy your very own special journal or notebook for your journey.
IMAGINE BEING ABLE TO:
Have the clarity and confidence you need to make your "next steps."
Taking consistent, guided actions.
Feel like a grounded and intuitive presence in your family.
Being able to access your intuition anytime, anywhere – tools or no tools.
Feel like a loving and supportive presence in your community.
Supplement your household income by hosting workshops and offering sessions for others.
Belonging to a group of other like-minded moms from around the world that share your interests.
Know how to take care of yourself and simple and impactful ways every day.
Be comfortable holding space for others and easily share wisdom and support.